Issue #18: some speculation on what the next 10 years of Instagram could look like
A couple of weeks back, Instagram turned 10, which made me feel really old and further exacerbated the already destabilising weirdness of pandemic time. Anyway, The Drum asked me to write a piece on what the platform might look like 10 years from now. I'm not usually into the whole future gazing vibe, as it feels a little pointless given how unpredictable life on Earth can be (if 2020 has taught us anything, it's taught us that), but it was actually pretty enjoyable taking stock of how much Instagram has changed so far and considering how its role in people's lives might evolve in the next few years.

So even though it doesn't really fit the usual format of what I write here (i.e. it's kind of a long read, it's for more of a commercial audience, and there are way less memes than usual), I'm publishing an adaptation of the original article here, along with 10 accounts I reckon you should follow (catch those at the end). Hope you don't hate it! Here are some pics of me being extra on Instagram to get you in the mood: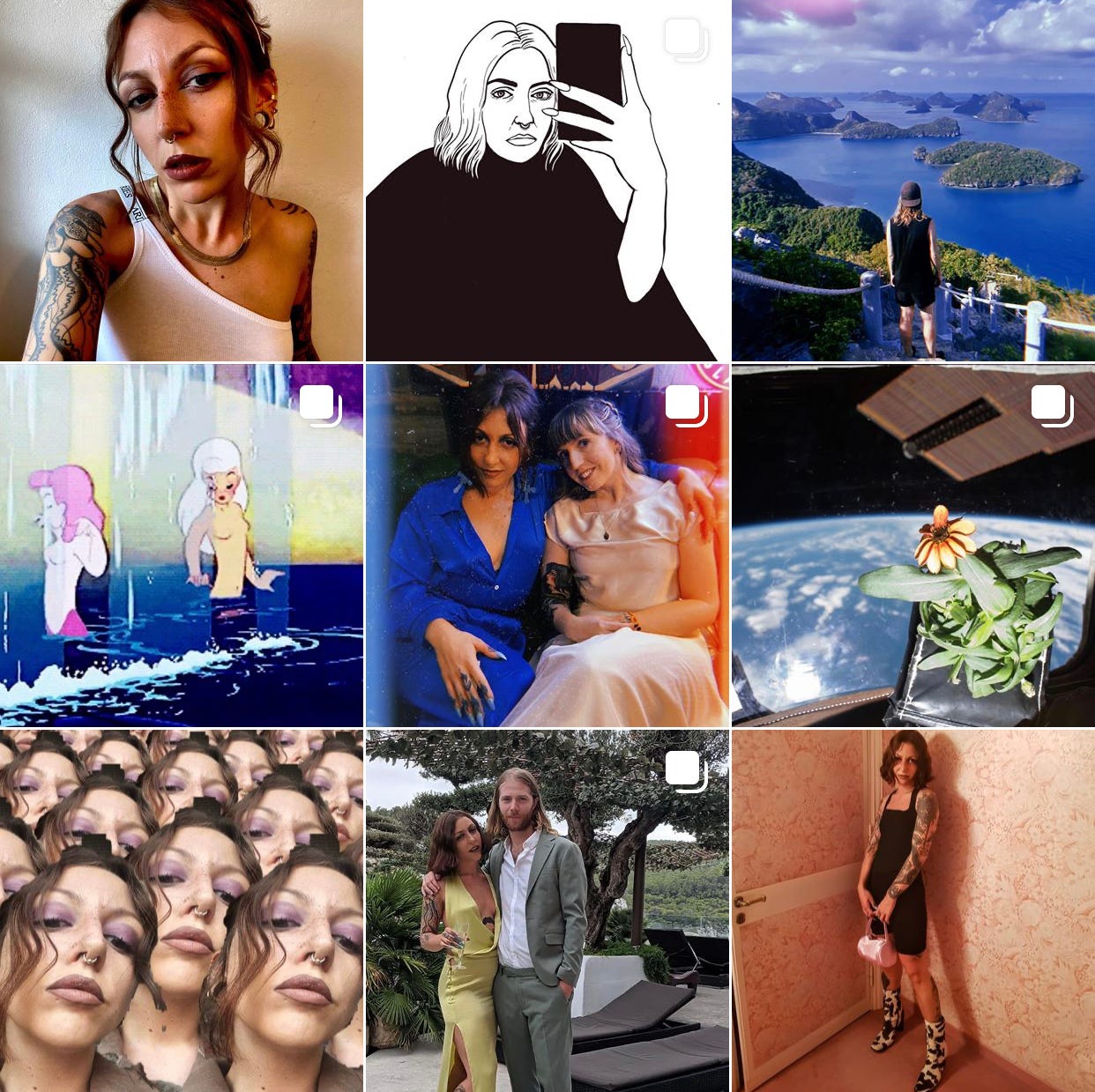 ---
Another decade of living on the grid?
At the ripe old age of 10, the 'image-sharing platform' renowned for its retro logo has come a long way. Instagram is now a hub of social commerce, an endless scroll of inspiration (if often served with a side of insecurity), and more recently, a hub of verified information, bolstered by its mobilised population of creators. With lockdown shaping much of our experience in early 2020 – at its peak, the first wave of Covid-19 saw over 3.9 billion people confined to their homes – digital tools and communications were pulled into even greater prominence, and Instagram has been forced to evolve.

Text-based communication on the platform is up so dramatically that publishers are adapting to these formats – Refinery29 went from 41% text-based posts in January to 72% in July (check out the below visual). Meanwhile, Facebook is changing its advertising policies; it axed its '20% rule', which historically penalised ads for including text that took up more than 20% of an image.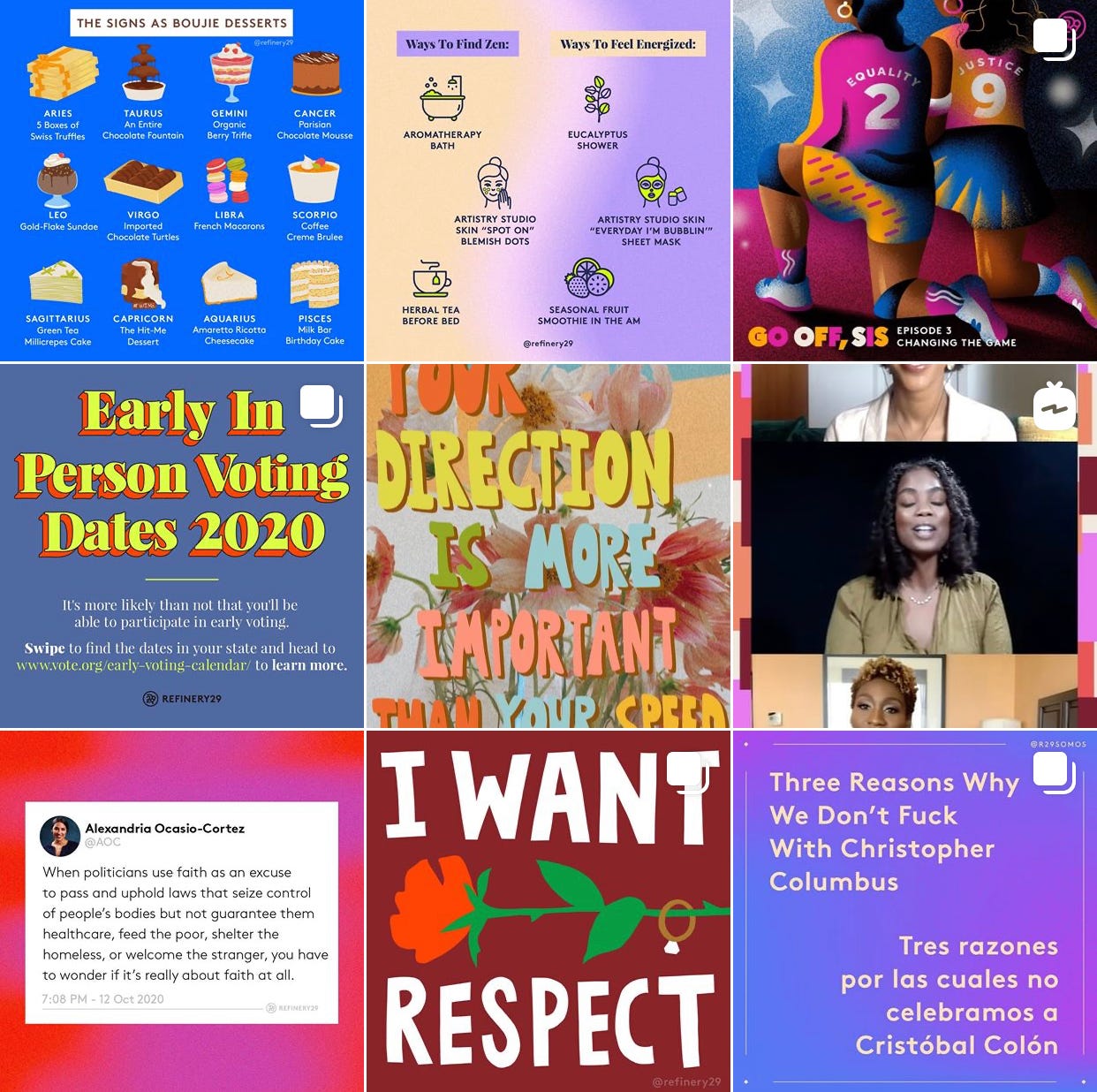 I guess my point is that a lot can change in a year, let alone 10. But the ways in which Instagram (and the creators that drive its content) has levelled up in this landscape have recently made me realise something that I'm pretty sure most people wouldn't have thought of a platform once defined by its not-particularly-diverse suite of vintage-style filters. Instagram is adaptable.
And so my prediction for Instagram 10 years from now is that it will become a one-stop platform for any digital whim or need we may have. Instagram will be to the West what WeChat is for China. I know people in my line of work are fond of making predictions of this ilk. But hear me out.
The past 10 years have seen Instagram draw an impressive breadth of creators – it doesn't matter if you're a fashion student seeking information, a civil rights advocate looking for education or a wired parent looking for some homeschooling advice. The creators on Instagram are sprawling and diverse.
Not only this, but its wealth of formats give it an edge on other platforms like Twitter, WhatsApp, or even its parent platform Facebook. By bastardising the novel formats, tools and aesthetics of competitors like Snapchat and TikTok, but combining them with the reach and commercial appeal of its own platform, Instagram has managed to become a digital space that facilitates multiple consumer mindsets. People head there for information, entertainment, socialising, shopping, networking, mindless scrolling and so much more.
Already, we're seeing people relearn how to use the platform in this context. People are increasingly using 'saves', and bookmarking them in line with what mood they're in when they revisit later. For example, my current save folders include education on human rights, beauty inspiration, and memes.
Further down the line, we could see Instagram users grow accustomed to scrolling multiple feeds or at least organising their content in more sophisticated ways. Imagine a filter or tabs to select close friends, outer circles, holiday inspiration, financial advice, and so on.

More than that, we could end up engaging with Instagram the same way we used to engage with the full Sky TV package – content streams that are packaged up and recommended to us via algorithms that will be creepier than ever in their accuracy. We'll need guides to keep on top of the lives that are most relevant to us, like the Explore page, only more sophisticated, and for a wider range of topics and formats.
Commerce will, obviously, play a major role. Already, Instagram feels like a virtual shopping centre. A place where teens come to socialise and fawn over brands; where homeowners come to peruse bed frames or lampshades; where beauty lovers, gamers and streetwear nerds can come to pick up the latest drop.
The ways in which all of the above engage with products and brands will become even more streamlined, supported by the cross-pollination of formats Instagram offers. Audiences accustomed to engaging with influencers via livestreams will have no trouble making the leap to livestreamed retail experiences. Tutorials on how to use, apply or make the most of what we buy will continue to be integrated into shop fronts – for global conglomerates and local businesses alike. It's only a matter of time before the exchange of funds between consumers and sellers makes its way in-platform. Some brands that have yet to be born may never even bother to create a digital presence beyond Instagram's platform.
A lot could happen between now and 2030. We could all be working from home with the aid of virtual reality. We might have discovered a way to colonise Mars, or have contacted those alien life forms on Venus. Climate change might have destroyed us all. But, if the latter isn't the case, I bet you Instagram's still around, for better or worse, infiltrating our everyday lives and influencing the world around us.
---
Here are 10 Instagram accounts currently ensuring my screen time never sinks too low (in no particular order):
@ripannanicolesmith
No one intellectualises pop culture quite like Kristen Cochrane

@sainthoax
Where I go when I'm too sad to read about US politics, but I wanna keep up with memes about US politicians

@dj_vibecheck
Lols with a side of weird (ty Rosie Gillespie for this gift)

@chantayyjayy
Endless hot takes via a true goddess

@monchismunchiesmemes
Didn't even know how much I loved this page until I scrolled back through my Saves and realised half of them are from here. Many lols

@the___zoo
The most perfect second-hand designer goods, sold via Stories

@autogyniphiles_anonymous
Anime babes, overlaid with philosophy (if Alex Quicho stopped giving me tips would this newsletter even exist???)

@thelickvhs
Movie aesthetics of my dreams

@the.holistic.psychologist
"Looks basic but is amazing" is a mood I can get on board with (Susie Hogarth always brings the therapeutic goods)

@somewhereiwouldliketolive
Just bc sometimes I wanna be somewhere other than here